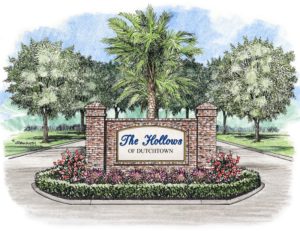 The Hollows of Dutchtown is located on LA Hwy 73 in Prairieville, LA and features custom homes measuring at least 2,200 living area. The beautiful development will have a community pool and clubhouse, multiple lakes and walking trails.
Development Amenities:
3 Lakes
Lakefront properties
Sidewalks
Community pool
Landscaped Boulevard entrance
Natural green areas
Community Schools:
Spanish Lake Primary School
Dutchtown Middle School
Dutchtown High School
Contact us to request more info and start building your home in this beautiful new development. Plat map below.
HOMES FOR SALE
HOMES FOR SALE
FOR SALE
LOT # 21 | Hollows of Dutchtown

37369 Whispering Hollow Avenue | FOR SALE
2776 Sq Ft | $464,900
4 BR/3BA
• Flex Room
• Mud Bench
• Computer Nook
More information coming soon!
MLS Listing
LOT # 166| Hollows of Dutchtown

37554 Cypress Hollow Avenue | FOR SALE
2446 Sq Ft | $409,900
4 BR/3BA
• Triple Split Floor Plan
• Mud Bench
• Computer Nook
MLS Listing
More Pictures
UNDER CONTRACT / SOLD
LOT # 141| Hollows of Dutchtown

37557 Irving Ave | SOLD
2428 Sq Ft | $409,900
4 BR/3BA
• Triple Split Floor Plan
• Mud Bench
• Computer Nook
MLS Listing

LOT # 160| Hollows of Dutchtown

37596 Cypress Hollow Avenue | SOLD
2473 Sq Ft | $412,900
4 BR/3BA
• Triple Split Floor Plan
• Mud Bench
• Computer Nook
MLS Listing
LOT # 24 | SOLD

14080 Twin Lakes Drive | UNDER CONTRACT
2811 Sq Ft | $469,900
4 BR/3BA
• Lake Lot
• Flex Room
• Mud Bench and Computer Desk
See MLS Listing
See Interior Photos
Printable Information
LOT # 53  | SOLD

37336 Whispering Hollow Ave.
2422 Sq Ft |  SOLD
4 BR/3BA
• Lake Lot
• Outdoor Kitchen
• Cathedral Ceilings in Living Room
See Interior Photos
LOT #97 | SOLD

37364 Cypress Hollow Ave.
2430 Sq Ft | SOLD
4 BR/3BA
• Computer Nook
• Mud Bench
MLS | See Interior Photos 
LOT # 120 | SOLD

37449 Cypress Hollow Avenue | UNDER CONTRACT
2829 Sq Ft | SOLD
4 BR/3BA
• Bonus Room
• Office
More information coming soon!
LOT # 139 | SOLD

37543 Irving Avenue | SOLD
2428 Sq Ft | SOLD
4 BR/3BA
• Computer Nook
• Mud Bench
See MLS Listing
Printable Information
Lot #144  | SOLD

14059 Sleepy Hollow Drive
SOLD
More Info Coming Soon…
LOT # 147| Hollows of Dutchtown

Sleepy Hollow | SOLD
2595 Sq Ft |
4 BR/3BA
• Triple Split Floor Plan
• Mud Bench
• Computer Nook
More Info Coming Soon

LOT # 148| Hollows of Dutchtown

14062 Sleepy Hollow | SOLD
2595 Sq Ft |
4 BR/3BA
• Triple Split Floor Plan
• Mud Bench
• Computer Nook
More Info Coming Soon

LOT # 152 | SOLD
14086 Sleepy Hollow Drive | SOLD
2553 Sq Ft | $419,900
4 BR/3BA
• Computer Nook
• Mud Bench
See MLS Listing
See Interior Photos
LOT # 161 | SOLD

37590 Cypress Hollow Avenue | SOLD
2611 Sq Ft | $444,900
4 BR/3BA
• Triple Split Floor Plan
• Mud Bench
• Computer Nook
Printable Information
MLS Listing | More Pictures
LOT # 168 |SOLD

37540 Cypress Hollow Avenue | SOLD
2428 Sq Ft | $399,900
4 BR/3BA
• Computer Nook
• Mud Bench
Scheduled Completion 1/30/2019
See MLS Listing
LOT #169  | SOLD

37534 Cypress Hollow Ave.
2788 Sq Ft |  SOLD
4 BR/3BA
• Computer Nook
• Mud Bench
MLS |  See Interior Photos
Lot #52 | SOLD
37328 Whispering Hollow Ave.
2797 Sq Ft | SOLD
4 BR/3BA
• Office
• Mud Bench
• Kids/Flex Room
• Cathedral Ceilings in Living Room
Take A Virtual Tour
Lot # 131| SOLD

14095 Shady Ridge Drive
2453 Sq Ft | SOLD
4 BR/3BA
• Lake Lot
• Computer Nook
• Mud Bench
Lot #96 | SOLD

37372 Cypress Hollow Ave.
2343 Sq Ft | SOLD
4 BR/3BA
• Computer Nook
• Mud Bench
Interior Photos
Lot # 132 | SOLD

14087 Shady Ridge Drive
2343 Sq Ft | SOLD
4 BR/3BA
• Computer Nook
• Mud Bench
• Lake Lot
Interior Photos
Lot #34 | SOLD

37326 Cypress Hollow Ave.
2776 Sq Ft | SOLD
4 BR/3BA
• Office & Mud Bench
• Kids/Flex Room
• Cathedral Ceilings in Living Room
Take an Online Tour
Lot #32| SOLD
37338 Cypress Hollow Ave.
2552 Sq Ft | SOLD
4 BR/3BA
• Computer Nook
• Mud Bench
• Cathedral Ceilings in Living Room
See Interior Photos
Lot #21 | SOLD
37369 Whispering Hollow Ave.
2776 Sq Ft | SOLD
4 BR/3BA
• Office • Mud Bench
• Kids/Flex Room
• Cathedral Ceilings in Living Room
See Interior Photos
Lot #64 | SOLD
37321 Cypress Hollow Ave.
2682 Sq Ft | SOLD
4 BR/3BA
• Office & Mud Bench
• Kids/Flex Room
• Cathedral Ceilings in Living Room
See Interior Photos
Lot #63 | SOLD
37327 Cypress Hollow Ave.
2430 Sq Ft |  SOLD
4 BR/3BA
• Office & Mud Bench
• Lake Lot
• Cathedral Ceilings in Living Room
See Interior Photos
Lot #72 | SOLD
37409 Whispering Hollow Avenue
2428 Sq Ft | SOLD
4 BR/3BA
• Computer Nook
• Mud Bench
Lot #33 | SOLD
37332 Cypress Hollow Avenue
2428 Sq Ft | SOLD
4 BR/3BA
• Computer Nook
• Mud Bench
See Interior Pictures
Lot #105 | SOLD
37405 Cypress Hollow Avenue
2274 Sq Ft | SOLD
4 BR/3BA
• Computer Nook
• Mud Bench
See Interior Pictures
Featured Home: